Marmoleum Solid Sheet
See More about Marmoleum Solid Sheet >>>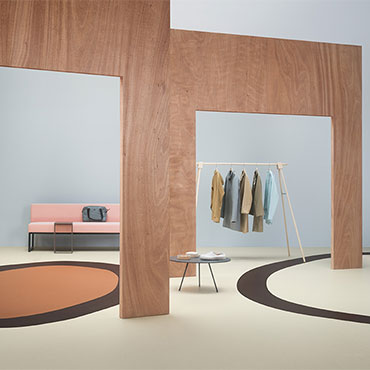 The pure nature of linoleum sheet flooring. Explore our new Marmoleum Solid flooring that combines attractive contemporary floor designs with unrivaled versatility & innovation. Discover Marmoleum Cocoa where we've added cocoa shells creating a unique granular look. Or take a look at the embossed Slate design that combines the aesthetics of stone with the warmth & purity of Marmoleum vintage linoleum flooring.
Our renewed Marmoleum Solid collection presents 5 individual floor textures that provide the foundation for creating pure distinctive modern spaces. This innovative sheet linoleum flooring range combines several levels of plainness with exciting twists of color and structure.
Think about the embossed Marmoleum Slate or Marmoleum Cocoa with added cocoa shells, or Marmoleum Concrete where shimmers of color have been added into the plain surface. This makes Solid
sheet linoleum flooring either the eye catcher of the room or the subtle surface on which other materials can accelerate.
Marmoleum Solid offers you:
PURE DESIGN


Original and exciting designs with a sense of texture and tactility


Extensive color palette fitting the trend for neutral, solid color experiences


Designs that combine beautifully with materials such as wood, glass and metal


PURE MATERIAL


Made from natural raw materials including linseed oil and wood flour


Using modern recycled materials such as cocoa shells


The sustainable flooring solution: CO2 neutral (from cradle to gate) and PVC free


PURE EMOTION


Versatile, authentic vinyl linoleum flooring with a long and proud heritage


The deep color tones and characteristic designs connect easy with any interior


The pure and authentic material contributes in creating an environment where people feel comfortable in.


---
NOTE:
Sunn Carpets & Interiors does not carry every style of product. Check with us first about a particular product or to see if your product choice is available for special order.
---