About ODOR-EATERS™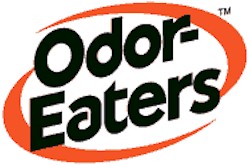 ODOR-EATERS™
Carpet Cushion System
The 2-part system that continuously and permanently removes odors and stains from carpet and cushion.
Enjoy all of the comfort, all of the performance and now, all of the protection!
ELIMINATES ODORS:
Powerful enzymatic technology eliminates odors caused by spills and pet accidents that penetrate carpet.
REMOVES STAINS:
Enzymatic cleaning action removes stains from carpet caused
by pet accidents and most food and beverage spills.
PROTECTS CUSHION & SUBFLOOR:
Moisture barrier prevents pet accidents and spills from saturating the cushion, where they can cause damage to the subfloor, harbor odors and cause recurring
stains as spills wick back to the surface of the carpet.
 
---
---